The Complete Microsoft Teams Course – Master Microsoft Teams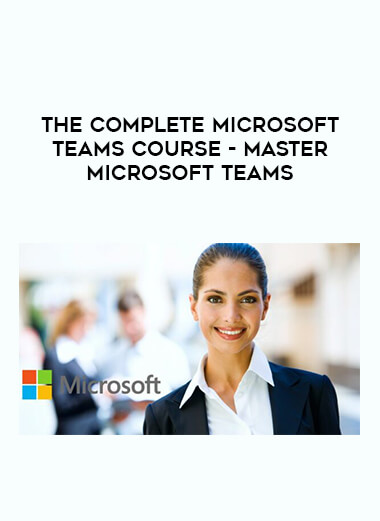 Salepage : The Complete Microsoft Teams Course – Master Microsoft Teams

Master Microsoft Teams: Managing Microsoft Teams – Microsoft MS-700 – Microsoft Office 365 – Sharepoint – Microsoft OneDrive
Microsoft Teams is a persistent chat-based collaboration tool that includes document sharing, online meetings, and many other incredibly valuable corporate communication capabilities. Having a great team space is essential for making innovative decisions and communicating with one another. But don't worry, this course will help you quickly and completely master Microsoft Teams. That is why it is referred to as The Complete Microsoft Teams MasterClass.
Microsoft Teams expands the number of ways to collaborate. Microsoft offers a lot of things that we need to look at and learn about these days. Everything is available in Microsoft Team. Chat – Share your thoughts and personality. In a group chat or one-on-one messaging, send gifs, stickers, and emoticons. Meet – With a single click, go from group chat to video conferencing. Teams of two or 10,000 can meet at a single location, regardless of how many locations they are in. Call – Use Microsoft Teams Calling, Phone System, Calling Plan, or Direct Routing to make and receive calls with internal and external groups. Collaborate – Use familiar tools like Word, PowerPoint, and Excel in Teams to easily search, share, and edit files in real time. (From the Microsoft Teams website)
We did our best to teach you in a way that you can understand as an administrator or a client (user). Understanding the interface in Microsoft Team is insufficient. You must study in such a way that you develop deeper skills and never forget it. As we progress through the lesson, you will see that finishing each lecture makes Microsoft Teams simpler. That is why I trained you to recognize as an administrator as well as a customer.
In this Complete Microsoft Teams MasterClass, we also concentrated on teaching you how to utilize other valuable programs such as Trello, Wiki, Polly, and Karma. Of course, Microsoft Teams is a large collaborative program in and of itself. But there are times when you need to do more and learn more. We discussed both approaches to assist you in mastering each required application.
Only software can work properly in partnership with teams and organizations, therefore we addressed both sides. TJ will teach you how to conduct great meetings, start meetings on time, and make every second count with the team…
Org and teams are built around security. Everyone and every user must have a suitable password. We did our best as well. To assist you in learning how to establish a strong password using official desktop and mobile tools.
You will be able to do the following after completing this The Complete Microsoft Teams Course – Master Microsoft Teams:
Complete knowledge about Google Microsoft Teams
Sign up for Microsoft Teams on the Microsoft website.
Understand the distinction between Microsoft Teams' free and premium plans.
Install the Microsoft Teams app on your desktop and phone.
Learn about the Microsoft Teams Interface.
Manage your Microsoft Teams profiles.
Begin a conversation with a Microsoft Teams participant.
In Microsoft Teams, create an Org, a team, and a channel.
Manage your team's org, team, and channels.
Users are invited to join Microsoft teams.
Understand the fundamental component of Microsoft Teams
In Microsoft Teams, you may start and manage a meeting.
How to Conduct a Test Call Before Beginning a Meeting
With TJ advice and expertise, you can lead excellent meetings with Microsoft Teams.
Control your stored messages.
Microsoft Teams chat management
Examine the Activity History in Microsoft Teams
In Microsoft Teams, you may manage calls.
File management in Microsoft Teams
In Microsoft Teams, add your chosen cloud.
In Microsoft Teams, configure your general settings.
Set your privacy preferences in Microsoft Teams.
Configure your notification settings
Change device settings to make them writeable.
Configure Calls and permissions.
In Microsoft Teams, you can search for anything.
Understand Microsoft Office Apps (Word, Excel, and PowerPoint)
Add YouTube videos to your Teams.
Set up Trello, Wiki, Karma, and Polla to increase productivity.
Create strong team members.
Make team presentations
Make group presentations.
Team presentations should be practiced.