The Complete Microsoft Teams Course – Master Microsoft Teams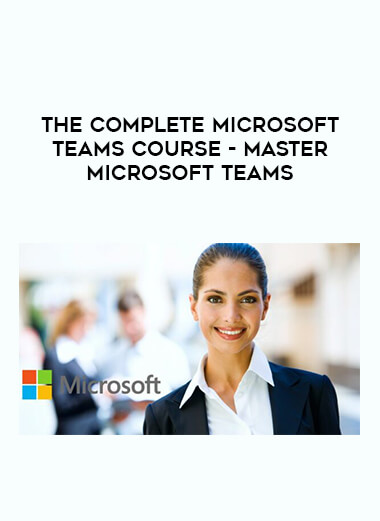 Salepage : The Complete Microsoft Teams Course – Master Microsoft Teams

The Complete Microsoft Teams Course – Master Microsoft Teams: Managing Microsoft Teams – Microsoft MS-700 – Microsoft Office 365 – Sharepoint – Microsoft OneDrive
Microsoft Teams is a persistent chat-based collaboration platform complete with document sharing, online meetings, and many more extremely useful features for business communications. Having an excellent team space is key to being able to make creative decisions and communicate with one another. But don't worry this course will help you build a fast and complete skill over Microsoft Teams. That's why we call it The Complete Microsoft Teams MasterClass.
Microsoft Teams provides more ways to be a team. Microsoft has many features that we have to look at and learn these days. We have everything available in Microsoft Team. Chat – Share your opinion and your personality. Send gifs, stickers, and emojis in a group chat or one-to-one messages. Meet – Instantly go from group chat to video conference with the touch of a button. Teams of 2 or 10,000 can meet in one place, no matter how many places they're in. Call – Make and receive calls with internal and external groups using Microsoft Teams Calling, Phone System, Calling Plan, or Direct Routing. Collaborate – Easily find, share, and edit files in real-time using familiar apps like Word, PowerPoint, and Excel in Teams. (Resource: Microsoft Teams website)
We did our best to teach you in a way you realize both as administer or client (user). Only understanding the interface in Microsoft Team is not enough. You have to learn in a way that you build deeper skills with it and never forget it. As we go through the lecture you will understand that Microsoft Teams is getting easier by completing each lecture. That's why I taught you to realize both as administrator and client.
Also, we focused to teach you to learn the more useful applications, for example, Trello, Wiki, Polly, Karma… in this Complete Microsoft Teams MasterClass. Of course, Microsoft Teams is itself a big collaboration app. But there is sometimes a need to do more stuff and learn more. We covered both ways to help you master each necessity application.
Only software cannot do well in collaboration with teams and Org so we covered both ways, TJ will help you learn how to lead effective meetings, start the meeting well and make every second count with the team…
Security is the core of Org and teams. Having a proper password is a necessary thing for everyone and every user. We did our best on that too. To help you learn how to create a proper and powerful password using official apps for desktop and mobile.
By taking this The Complete Microsoft Teams Course – Master Microsoft Teams you will be able to:
Full understanding of Google

Microsoft Teams

Sign up in Microsoft to use

Microsoft Teams

Understand the difference between the free and paid plan of

Microsoft Teams

Download

Microsoft Teams

App on Desktop and Phone

Become familiar with

Microsoft Teams

Interface

Manage your Microsoft Teams profile management

Start chatting with a participant in

Microsoft Teams

Create Org, team, and channel on your team in

Microsoft Teams

Manage Org, team, and channel on your team

Invite users to join

Microsoft teams

Understand the core part of

Microsoft Teams

Start and manage a meeting in

Microsoft Teams

How to make a test call before starting a meeting

Lead effective meetings in

Microsoft Teams

with TJ tips and experience

Manage your saved messages

Manage chat in

Microsoft Teams

Browse Activity history in

Microsoft Teams

Manage calls in

Microsoft Teams

Manage files in

Microsoft Teams

Add your favorite cloud in

Microsoft Teams

Set up your general settings in

Microsoft Teams

Set up your privacy settings in

Microsoft Teams

Manage the settings of your notification

Manage device settings to make them go write

Configure Calls and permission settings

Search anything in

Microsoft Teams

Be familiar with Microsoft Office Apps (Word, Excel, and PowerPoint)

Connect YouTube videos in your Teams

Set up Trello, Wiki, Karma, Polla for better productivity

Create powerful users for your teams

Deliver team presentations

Create team presentations

Practice team presentations