The Date Selection Compendium – The 60 Jia Zi Attributes by Joey Yap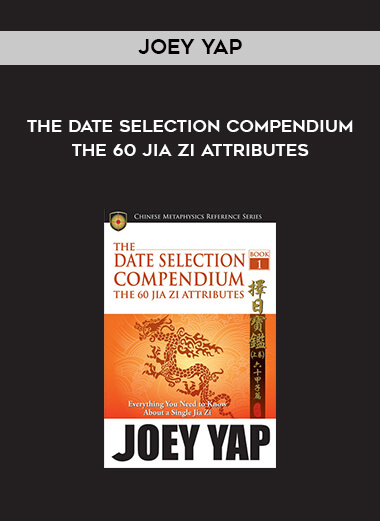 Salepage : The Date Selection Compendium – The 60 Jia Zi Attributes by Joey Yap

The Value of Having a Good Date
This is the first book of its sort to compile all of the material from the most major traditional Date Selection tomes, the most important of which being Xie Ji Bian Fang Shu (The Book of Unifying Times and Discerning Dimensions). The Monthly Purple White Stars, Qi Men Three Noble Stars, and the Annual Positive and Negative Stars for each Jia Zi are the highlights of this huge and comprehensive compendium, all of which give many hours of delightful study and reference for masters, instructors, and students alike.
What You'll Discover
Positive Stars for Every Jia Zi Every Year (Year Pillar)
Every Jia Zi has an annual negative star (Year Pillar)
San Yuan Purple White Stars are awarded annually.
Monthly Stars in Purple and White
Mountain Stars Covering Yellow Path
Stars of Heaven-Penetrating Force
Three Noble Stars for Qi Men
There's also the 12-Month Auxiliary Stars Reference Table.
Highlights from the Chapter
60 on the scale Jia Zi
Each Jia Zi is analyzed in tables or related diagrams, with their main elements comprising the Annual Positive Stars, Annual Negative Stars, 12-Month Auxiliary Stars, Monthly Purple White Stars, and Sectors to Avoid Opening Mountain.