The Herbal Healer
Delivery : Digital Download Immediately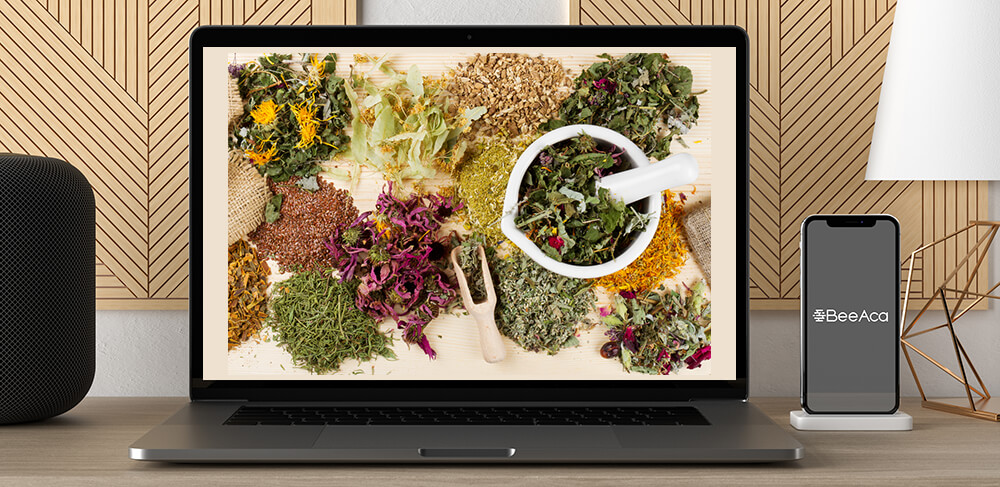 Holly Bellebuono – The Herbal Healer
Salepage : Holly Bellebuono – The Herbal Healer
Archive : Holly Bellebuono – The Herbal Healer
Course Download Size :
What You'll Discover in These 7 Modules
In this life-enhancing 7-part program, Holly will guide you through the fundamental skills and competencies you'll need to successfully further your understanding of herbs in their complexity and begin to build effective herbal formulas.
Each training session will build harmoniously upon the previous ones so you'll develop a complete holistic understanding of the practices, tools, and principles you'll need to sustain your practice with herbal formulas.
Module 1: Learn the 4-Tier Formula
Herbal remedies offer us natural medicines for helping to mediate symptoms or heal acute or chronic illness. Yet, there are hundreds of herbs to choose from, so how do you know which are the right ones? How do you know which are the best, most effective herbs to use, or if you're using too many, or too few?
In this first module, you'll learn Holly's 4-Tier Formula — the foundation on which hundreds of her students have built their understanding of herbal medicine. You'll receive step-by-step instructions on the qualities and actions of herbs, making choosing herbs for a particular illness or symptom easy and rewarding.
You'll discover:
How to take your health into your own hands using safe herbs and practical methods
The value of using the 4-Tier Formulary and how it can make creating herbal remedies simple and fun
What herbal "actions" are and how knowing them makes formula crafting quick and easy
What an "overlap" herb is and how to get the most out of it
Practical ways to approach creating an herbal remedy for a friend, family member or client
The top herbs that will help you optimize your remedies — you'll use these again and again
The 4 parts of an effective formula
Step-by-step guidelines for choosing herbs based on symptoms
Keys to quickly incorporating herbs in the right place in a formula
"Tonic" herbs and how they support, nourish, and sustain the mind and body
How to choose a "specific" — the centerpiece of your formula
How bitters and digestive herbs can be used in remedies for a wide variety of illnesses
When to use a "vehicle" herb and why this can make your remedies stronger
Module 2: Healing the Respiratory System With Medicinal Herbs & Foods
Herbal medicine offers us a pharmacopoeia of natural remedies for treating illnesses of the respiratory system — with many herbs suited to supporting our sinuses, ears, throat, and lungs, alleviating painful conditions, and bringing the body back into balance.
In this module, you'll discover the best herbs and medicinal foods for your home pharmacy — or if you're a healing arts practitioner, how to stock a medicine cabinet for immune support, coughs, asthma, emphysema, COPD, and the flu.
You'll discover:
The difference between upper and lower respiratory illnesses and symptoms, and how to identify them
Key herbs to support the ear, nose, and throat to provide comfort and healing
How to apply the 4-Tier Formula for sinus congestion, ear infections, runny nose, and colds
Immune-supporting herbs and how to include astringents and antimicrobial herbs in a formula
How to choose herbs for wet coughs and dry coughs
How medicinal herbs and foods can affect proper breathing
The best expectorant herbs to fight phlegm
The best antitussive herbs to ease spastic, hacking coughs
How digestion and the lymph system are important to consider when working with the respiratory system
Creative methods for supporting clear breathing using aromatic herbs, flowers, and seeds
Module 3: Supporting the Digestive System With Herbs & the 4-Tier Formula
Our digestive tract may be the most important system in our body. In addition to supporting our gut microbiome with probiotics, prebiotics, and proper nutrition, we can use herbs to maintain a strong digestive "fire" and to relieve common symptoms and issues as they arise. Medicinal herbs are widely used to ease common symptoms such as gas, bloating, diarrhea, and constipation.
In this module, you'll learn more about herbs' actions, such as carminative and bitter, and how to apply these actions to a well-rounded formula. You'll also learn how to create a 4-Tier Formula using herbs that can nourish your vitality, strengthen your resistance to disease, ease unpleasant symptoms — such as gas and bloating — and lift your mood.
You'll discover:
Safe herbs to use consistently to support your digestion for life
The best practices for everyday herbs and foods for a healthy gut
How to achieve liver health without "detoxing"
Herbs to reduce gas, bloating, diarrhea, and constipation
Ways to include digestive herbs in the 4-Tier Formula
Which herbs are hepatic, and how to use them to feel better and strengthen the gut
How to use "overlap" herbs to accomplish both digestive and nervous system health
Soothing herbs for gastric ulcers and ulcerative colitis
Why poor digestion can lead to headaches, poor posture, and even hormonal issues and skin issues such as acne
How to support liver health and address liver diseases such as cirrhosis
How to make and use liver "tonics"
How to use mints and other carminative herbs for gas-free digestion
When to use antispasmodic and aromatic herbs — and the advantages of both
The value of turmeric in a wide range of digestive issues, from Irritable Bowel Syndrome to Crohn's Disease
Why there's no "magic bullet" to common digestive issues
Creative ways to include digestive herbs in everyday meals
Module 4: Supporting the Cardiovascular System With the 4-Tier Formula
Heart health can wane in our fast-paced, tech-centered society. Many people develop high blood pressure or discover that their genetics place them at risk for heart attack or stroke. Obesity causes vascular problems, and poor eating habits can break down blood vessel walls and cause plaque buildup.
In this module, you'll learn how herbs have been used for hundreds of years to ease the burden on our hearts. You'll discover how modern research supports the use of specific herbs to lower blood pressure and relieve blood vessels of dangerous plaques.
You'll also gain insight into the heart as our center for love, grief, and anxiety, and how herbs can address depression and anxiety.
You'll discover:
How to take charge of your own heart health using safe, reliable herbs
The difference between a cardiotonic and a cardioactive
Practical suggestions for using healthy heart herbs every day
What a vasodilator herb is and how it can help middle-aged men
Herbal remedies that can help prevent heart attack, angina, and stroke
The best herbs for sustaining a healthy vascular system
Healing foods that can help you avoid atherosclerosis and arteriosclerosis
Common foods that are tonics in the 4-Tier Formula
How to achieve a happy heart through nutrition
Key herbs to address grief, loss, sadness, and heartache
Create a 4-Tier Formula that enriches heart health
Herbs to stimulate blood flow to the brain and increase mental clarity
How to create a remedy that warms cold hands and cold feet
Support for hypertension using safe, common plant medicines
Module 5: Support the Nervous System With Herbs
The nervous system is a complex matrix of nerves influenced by stress, genetics, diet, toxins, and habits that can damage the brain.
In this module, you'll learn about the interaction of herbs and the brain — with an emphasis on supportive and preventive remedies to keep it healthy. You'll discover the most recent research on herbs that support mental clarity and how to use them in food and herbal formulas. And you'll discover the best practices for safely supporting nerve cells, which can promote better sleep, enhance cognition, provide better muscle control, and support a more centered Self.
You'll discover:
Therapeutic benefits of nervous system tonics
Common kitchen herbs to include in your breakfast everyday for mental clarity
Botanicals for the brain and central nervous system
How to create a 4-Tier Formula for both acute and chronic anxiety
The best practices for retaining memory and supporting brain health
Herbs that heal and support neurons
What the myelin sheath does for a nerve cell, and the herbs to support it
The latest research into herbal support for Alzheimer's and Parkinson's Diseases
Ways to create a remedy to support those with ADD/ADHD
The best anti-stress herbs for insomnia
How to use aromatic herbs for memory and mental clarity
How to choose a "vehicle" herb for the brain and use it in your formulas
Module 6: Herbs for Supporting Your Skin & Skeletal System
Beyond increasing calcium, there are nutrient-packed herbs that can help nourish your bones, hair, teeth, nails, and muscles. In this module, you'll learn the value of emollients on the skin, and how vulneraries can repair damaged tissue. You'll also learn how to build stronger bones and promote healthier skin from within.
You'll discover:
Herbs, plants, and foods for a strong bone structure and clear skin
How to make tonic herbs part of your breakfast, lunch, and dinner
How to increase the health of your hair, skin, and nails
Key ways to nourish your skin from within
How to support your skin by nourishing the adrenal glands
When to address inflammation — the body's natural response to stress
The best Tier 3 Corollary herbs for effective skin formulas
Why digestive herbs are essential to healthy skin
When and how to use emollient herbs to soothe dry skin
Herbs and foods to address eczema and psoriasis
Which herbs are "Specifics" in skin support
Ways to confidently use herbal medicine for the young and old
How to experiment with safe herbs by making rinses and compresses
Module 7: Forging Ahead
Crafting Herbal Remedies With Confidence & Awareness
In this final module, you'll prepare to embark on one of the most rewarding journeys of your life: taking healing into your own hands or — if you work with others — integrating herbs into your practice.
You'll enrich your understanding of herbs by connecting with three to five plants that resonate with you, experimenting safely with Holly's guidance. You'll deepen your insights into what it means to heal, learning about disease and wholeness. And you'll finish the course feeling equipped to address a wide range of illnesses and symptoms using a new system of formula-making that is simple, safe, and effective.
You'll discover:
How to apply Holly's 3 Priorities for Care to enhance the way you approach healing
Experiment with safe herbs from Holly's Creativity List
Connect with 3 to 5 herbs and use them weekly for stronger health
How to use a diversity of liquids in your formulas to add versatility to your work
Expand your comfort zone working with leaves, seeds, flowers, and roots
Optimize your daily herbal practice to increase your mental and physical fortitude
Nourish your Self while you support friends, family, and community
Increase your energy, vitality, and confidence using plants as medicine
The Herbal Healer Bonus Collection
In addition to Holly's transformative 7-part virtual course, you'll receive these powerful bonus materials. These bonuses complement the course — and promise to take your understanding and practice to an even deeper level.
The Plant Medicine Wisdom Collection (Valued at $247.00) Full Package of Downloadable MP3s for All 2017 Sessions
Discover a unique synthesis of medicine, ecology and spirituality to help you access the wisdom of plants, to restore balance and cultivate deep personal and planetary healing with this comprehensive collection.
Leading botanical medicine experts, health practitioners and inspiring educators who have distilled decades of research for you during The Shift Network's most popular summit (with more than 100,000 global participants!).
You'll hear from Dr. Vasant Lad, Dr. Jill Stansbury, David Winston, Sara Crow, KP Khalsa, Acharya Shunya, Dr. Lakisha Jenkins and more, as they share alternative therapies that can be easily grown in your garden — or sourced locally — and gain access to trusted guides who can show you exactly how to use nature's vast pharmacy wisely and effectively
Herbal Action Webinars
Series of 3 Webinars From Holly Bellebuono
This series of instructional webinars is a fantastic resource for the herbal medicine student, healing arts practitioner, and gardener. Brimming with full-color gorgeous photos of plants from Holly's teaching garden and from wild landscapes around the country, this original series teaches the basics of herbal actions, providing action definition, examples of the most popular or useful herbs that exhibit that action, herbs you may not have considered, tips for combining herbs and building effective formulas, a voice walk-through with Holly introducing scores of healing plants, and detailed instruction for using plant actions to increase your herbal understanding.
You'll receive webinars on the following topics:
Astringent
Vulnerary
Nervin
Guides for Herbal Medicine
Set of 4 Printable PDF Guides From Holly Bellebuono
As an added bonus, Holly will provide you with tip sheets on a variety of topics. These colorful tip sheets will provide you with simple, step-by-step actions to follow to create a variety of products in your herbal kitchen.
You'll receive tip sheets from Holly on the following topics:
Herbal Formulary
Liquid Extracts
Salve Making
Tea Blending
Herbal First Aid
Article From Holly Bellebuono
This elegantly designed article, originally published in Taproot, "the magazine for makers, doers, and dreamers," is being provided as a bonus because it's super-relevant for your course. Since it's inevitable that we sometimes get hurt while living our active lives, having some herbal first aid remedies available is a quick, reliable, and inexpensive way to treat minor wounds. With proper care, topical first aid using plants can be very effective. Learn some of Holly's remedies, which are beautifully illustrated by photographs from Jessica Ojala.
In this article, Holly shares remedies for:
Minor burns
A fresh herb wound wrap
Skin-healing beeswax ointment
And more!
Author
Holly Bellebuono, MPA, CH, CPC, is an American herbalist, speaker, author, and empowerment facilitator specializing in women's health and visionary thinking. She is CEO of Bellebuono Holistic International, the operating entity for The Bellebuono School of Herbal Medicine, Vineyard Herbs, Teas & Apothecary, and her renowned publishing and speaking activities.
Readmore: Holly Bellebuono