The Mindset of a Master – Wisdom to Win by Sally Forrest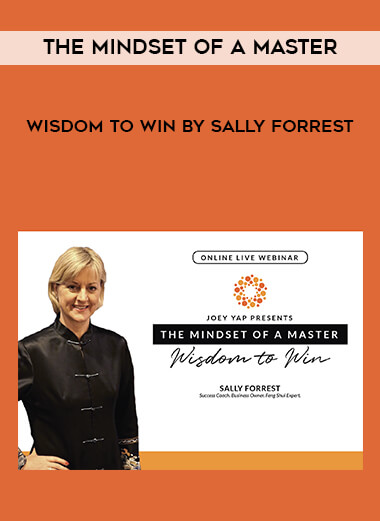 Salepage : The Mindset of a Master – Wisdom to Win by Sally Forrest

Please take notice!!!
Because this is a video program, you will only receive a softcopy of the movie through email. There will be no paper deliveries.
Payment and shipping:
Please provide your EMAIL address in the "message:" field during checkout.
After payment is completed, you will receive an email with a link to the movie in Google Drive.
You can only access the file(s) using Google Drive. You will have access to it as long as Google Drive is operational.
Sally Forrest's The Mindset of a Master – Wisdom to Win
Sally Forrest is a 360 Entrepreneur who has achieved huge economic success while studying holistic sciences her whole life. She works with businesses, entrepreneurs, and start-ups to help them achieve and grow success. Sally is also a global speaker, a bestselling author and a TEDx featured expert.
Sally holds an MBA, has substantial business experience, and is a licensed pharmacist. She is the Managing Director of SoulCentre® and SoulKids®, two award-winning Singapore-based enterprises.
Sally thrived in high corporate roles in the UK and worldwide for for 17 years before deciding to take a different path in her life. She left her corporate job and worked diligently to help create an orphanage in Thailand.
Sally's exposure to other cultures and ideologies sparked a profound need for solutions in mind-body healing, prompting her to embark on a worldwide tour to meet specialists in several life-disciplines.
Sally spent the following ten years traveling the world, studying from world-renowned specialists and mastering several complementary Mind-Body healing and happiness practices.
Her desire to comprehend the secrets of the mind finally led her to meet Vikas Malkani, a teacher of Wisdom, and they decided to deliver these life-changing practices to the globe through SoulCentre in Singapore.
Sally is particularly enthusiastic about SoulKids, the award-winning training program she co-founded that teaches children important life skills for success and happiness. Her mission is to help youngsters become responsible, confident, and successful adults.
360 EntrepreneurTM is Sally's training program for entrepreneurs just starting out on their path to success. Sally crafts a success roadmap for each client based on their skill sets and her extensive experience operating successful businesses. Her innovative curriculum, The Life Achievement MethodTM, is suitable for people seeking clarity, concentration, and success in their personal and professional lives.