The Pillars: Clinch & Takedowns – Stephen Whittier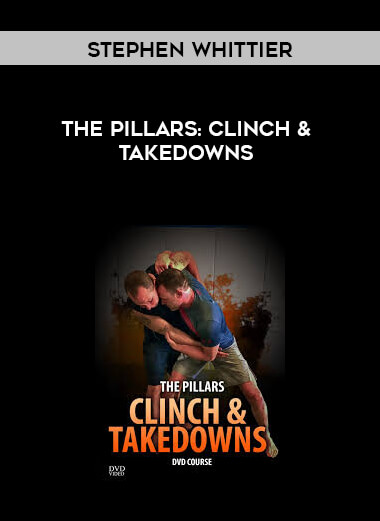 Salepage : The Pillars: Clinch & Takedowns – Stephen Whittier
Stephen Whittier is the owner of Nexus Martial Arts & Fitness in Massachusetts and a third-degree BJJ black belt. He's also a professional performance coach with years of expertise training everyone from recreational students to BJJ competitions and "A-list" MMA fighters at seminars and training camps around the country and worldwide.
VOLUME ONE:
The Master Posture (Introduction)
Position of the Head
Hand-to-Hand Combat
Fighting with both the head and the hands
Including The Snapdown
Putting Them Up
"Pop & Go" Single Neck Tie Defense
Attacking Base Specifics
The solitary underhook
Head and Arm Pinch
The Russian language (2-on-1)
The 2-on-1 Threaded
VOLUME TWO:
Pressure, Sensitivity, and Connection
The Arm Dragging
Concept of Circles and Angles
The Grip in Reverse
Opposite Wrist Grab vs. Passing The Arm
Wrist Grab on the Same Side vs. Arm Drag
Tips for Applying Offensive Pressure
The Breakdown
Pummeling & Neutral Underhooks
Weight Distribution and Base Specifications
The so-called "Magic Shoulder"
3RD VOLUME:
When your opponent tries to beat your frames, you must counter.
Repulsing the Arm
Progression of Repummel
Repummel shotput
The Thumb Block and the Hand Swim
Overcoming A High Underhook
Body Pummeling with Head Fighting
The Catch-22 (Whizzer)
Including the Head Peel
Transition to the Head and Arm
Countering A Single Strong Underhook
4TH VOLUME:
Changing the Position of the Underhook Counter
High Double Underhooks Beating
Counter To High Double Underhooks Head Peel
The Counter-Fist-In-Sternum
Bodylock Head Peel & Trip Counter
Against the 2-on-1
Over/Under Bodylock Takedown
Over/Under Corkscrew Takedown
Takedown of the Interceptor
Single Step at a Time
5TH VOLUME:
The Knee Block for Windmills
Triceps Extraction From Windmill Knee Block
Takedown with a high single underhook to the body
High Single Leg Takedown to High Underhook
Takedown from High Underhook to Low Single Leg
Inner Reap to High Single Underhook
To the Knee Block Transition
Front Headlock Snap Down
Pinch the head and arms to takedown
Control of the inside biceps with a single neck tie
Duck under a single neck tie with biceps control.
Takedown with Duck Under To Hip Block
A single neck tie with biceps control to the high crotch.
VOLUME SIX:
Transition from High Crotch to Double Leg
Details on the Double Leg Finish
Takedown from the High Crotch to the Single Leg
Takedowns in a 2-on-1
Front Headlock Takedowns
Cradle Your Head In The Hole
Countering the Shot with Connection and Weight