The Power of Shamanic
Delivery : Digital Download Immediately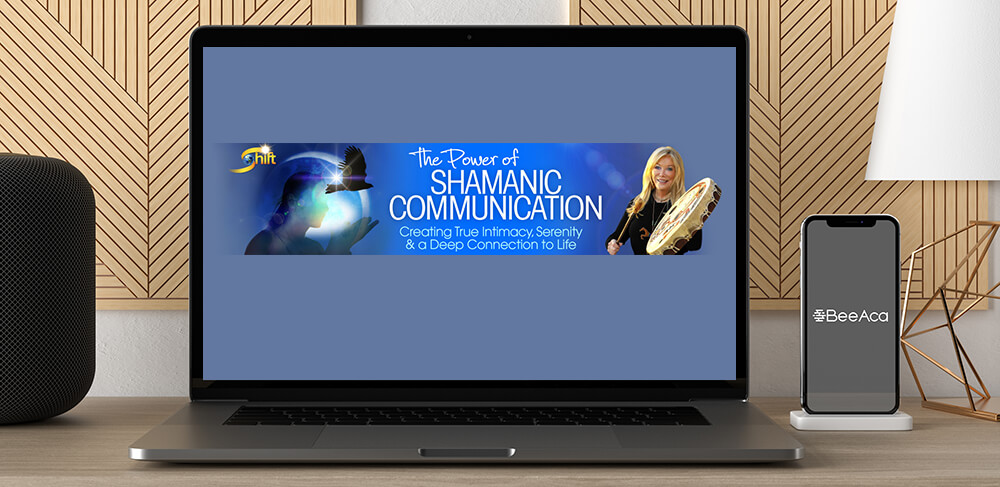 Lynn Andrews – The Power of Shamanic Communication
Salepage : Lynn Andrews – The Power of Shamanic Communication
Archive : Lynn Andrews – The Power of Shamanic Communication
Course Download Size :
New Live Training Starts
Thursday, November 3, 2016
What You'll Discover in These 7 Weeks
Course sessions are on Thursdays at 5:00pm Pacific.
In this 7-week transformational journey, Lynn will guide you through the fundamental shamanic communication skills and practices that can liberate your authentic self, create more inner peace and influence healing and harmony in your relationships.
Each weekly, LIVE session will build harmoniously upon the next so you'll develop a holistic understanding of the practices, tools and principles of shamanic communication.
Module 1: The Power of Shamanic Communication (November 3)
In this module, you'll discover the beauty and power of communication from the shaman's perspective.
Using guided journeying, balancing your thoughts, intention-setting and other forms of expression on the sacred wheel, you'll explore and begin to apply the skills and tools of shamanic communication.
Discover the power of setting a shamanic intent and placing it in a physical form to manifest on this plane of existence. You'll be introduced to the sacred energy centers and learn how you can move energy in and out of your body as you communicate.
In this module, you'll:
Learn a cleansing exercise to move your energetic field into the sacred art of communication
Create a Prayer Stick to focus your shamanic intent and expand your skills as a shamanic communicator
Learn what it means to communicate in a sacred way with the voice of our spirits, using symbols to convey meaning and depth
Explore the Sun Wheel and balance your "Ladders of Light"
Become familiar with the sacred wheel as a paradigm for the process of mind
Discover the power of the Talking Stick, a tool used for heart-centered communication and for understanding your spirit, mind and emotions
Module 2: The Oracle of the Talking Stick (November 10)
It's time to enter the mystery and meet your ancient allies. In this live session, we'll listen to the wind, hear the language of the trees, and discover the conversation nature is waiting to share with each of us.
Our ally shall be the Talking Stick, an ancient tool for communication used to access information in the physical, relative world and unseen realms of the galactic, time-space continuum.
This sacred object is an antenna with which you can move through the universe and the extraordinary landscape of your life. It helps you to hear and be heard without judgement, pain or difficulty. You'll discover how to use this Oracle in your process of inquiry and you'll discover personal symbols that are uniquely yours as you work with this powerful ally in your process of communication.
In this module, you'll:
Empower your Talking Stick as you become its keeper
Use the Talking Stick as a reminder to be a sacred witness of another's truth
Create a partnership with The Oracle of your Talking Stick as you exchange wisdom, support and inspiration with your helping spirits, allies and guardians
Discover symbols of power and put them on your Talking Stick
Feel the voice of the wind and talk to the tree that gifted you its branch
Initiate your Talking Stick with an extraordinary journeying.
Module 3: The Power of Self Communication (November 17)
In this live session, you'll examine your beliefs and your belief structures, and how they may be fencing in your consciousness and influencing your communication on the sacred wheel and look for their inherent strength and weaknesses. Lynn will walk you through energies and attributes of the four directions on the Wheel of Communication.
You'll take a close look at these beliefs and how they are fencing in your consciousness and affect your communication in the world. Whether you're communicating from a place of negativity or from beauty and power, your energy pulses along the strands of an energetic web, recreating itself around the world.
In this module, you'll:
Learn to communicate with every aspect of yourself.
Become a truthful mirror for others, and strengthen your intent to communicate with a balance of love and power.
Sit in the center of your sacred wheel with a new vision, and recognize when you communicate from the four directions of mind, body, heart and spirit
See your communications as a web of luminous fibers reaching out to others and spreading far and wide.
Module 4: Communicating With Your Power Animals (December 1)
The ways you relate to the subtleties of the energies of the Universe is best expressed through your power animal. In this course, you'll collect many to serve on your personal council.
Your power animals can change your life. Journeying to the Lower World, you'll meet and bring back power animals that will assist you in expressing your sacred self, speaking your truth and listening with your heart — and enhance your ability to send and receive messages between worlds.
In this module, you'll:
Travel on a quest for an animal ally that will lend strength and wisdom to your powers of communication
Dance your power animal into presence within you
Understand the importance of your instinctive power animal, which has a profound effect on the way you communicate
Create a bundle for your power animal and attach it to your talking stick, empowering your sacred tool with the essence of your animal ally
Empower your instinctual nature with your attention and care.
Module 5: Communicating With Your Divine Source (December 8)
Sacred intimacy and communication are about your relationship with spirit, your Divine Source. Spirit connects us with God, with the Great Spirit.
In communion with Great Spirit, we come face to face with the One. In the sacred silence, you experience a blissful freedom that comes with the voice of truth and the power that is You.
Remember that you were born to this destiny. With each step you take on your path of heart, you sing a note of your songline. You light the skies with your magic.
Is your commitment to yourself, to all the sacred beings who love you as strong as it could be?
In this module, you'll:
Experience the world of Spirit and Great Spirit in a way that is different from your everyday reality
Allow the Divine to make momentary, fleeting even lifetime connections with your sacred self
Discover your "secret self" on the sacred wheel, experience your destiny and be drawn to the truth
Trust the simplicity of wisdom and beauty in the sacredness of your interactions with the seen and unseen worlds.
Module 6: Communicating With Our Ancestors (December 15)
This week, you meet your ancestors, beings of light in other dimensions who are waiting to offer guidance and inspiration. You are who you are today in part because they walked the trail before you.
Whatever you need from these Old Wise Ones, simplyourney around the Wheel of the Ancestors, sit in sacred witness of their stories and ask them questions. Their answers will come.
In this module, you'll:
Connect with your sacred ancestors, and be transformed
Visit the stars and sit around the sacred fires with these Wise Ones
Bring their wisdom back to heal yourself, your loved ones, and even the world
Become the keeper of your extraordinary wisdom; this is a great responsibility and a great joy
Move deeper into your true essence
Module 7: Great Heights of Initiation (December 22)
Throughout this course, you'll have the opportunity to practice the power of shamanic communication and cultivate your relationships in the world of Spirit.
You've created your sacred Talking Stick, embraced your Power Animal and opened the doors to perception. When you choose love, life and joy, you free the voice of your authentic truth. Your most sacred self awaits you.
You're opening to more joy, serenity, intimacy, and even ecstasy. Every aspect of your life can improve, if you remain open and apply the shamanic tools of communication.
In this module, you'll:
Journey into the realms of Spirit, your power animals and allies, your ancestors and guardians
Discover new ways to improve and empower the way you communicate with the world around you
Become ecstatic, balanced and whole
Awaken to the life that awaits you when you embrace your full potential
Move out of the comfort of what is to step through the gateway of what is meant to be!
The Power of Shamanic Communication Bonus Collection
In addition to Lynn's transformative 7-week virtual course, you'll receive these powerful training sessions to complement what you learn, and deepen your understanding and practice.
Practical Wisdom Ⅰ
Audio Teaching From Lynn Andrews
These teachings, featured in one of Lynn's first recordings, bring you into the Mystery and guide you to navigate the process of thought. It contains teachings, personal reflections and discussions about her early work with Agnes Whistling Elk and Ruby Plenty Chiefs, her teachers and mentors. Indigenous teachings have always been an oral tradition and with this recording, you hear firsthand the stories from Lynn.
Centering Meditation
Guided Journey From Lynn Andrews
This audio recording is an excellent opportunity to move into the silence of your own heart and healing. Lynn guides you in releasing addictions or old wounds, empowering your inner child.
Use this guided journey daily, while sitting in your own sacred space, to center your body energetic field.
Imagination
Audio Teaching From Lynn Andrews
Most of us We often spend a lot of time focusing on the world with our "outer" eyes, leaving e very little time to focus with our ears and inner vision. In this audio teaching, Lynn guides you into Dreamtime, where you'll develop your personal power and visualization skills. Simply, close your eyes and let breath be your guide into the center of your being, following Lynn's imagine-stretching exercise.
Author
Lynn Andrews is the New York Times and internationally best-selling author of the Medicine Woman Series, which chronicles her three decades of study and work with shaman healers on four continents. Her study of the way of the sacred feminine began with Agnes Whistling Elk and Ruby Plenty Chiefs, Native American healers in northern Canada. Her quest for spiritual discovery continued with a Shaman Curendera of the Mayan Yucatan; an Aboriginal woman of high degree in the Australian Outback or Nepalese healer in the foothills of the Himalayas. Today, she is recognized worldwide as a leader in the fields of spiritual healing and personal empowerment. A shaman healer and mystic, Ms. Andrews is widely acknowledged as a major link between the ancient world of shamanism and modern societies thirst for profound personal healing and a deeper understanding of the pathway to enlightenment.
Readmore: Lynn Andrews