The Social Media Ad Generator: Generate Thousands Of Copy Variations With Just A Few Clicks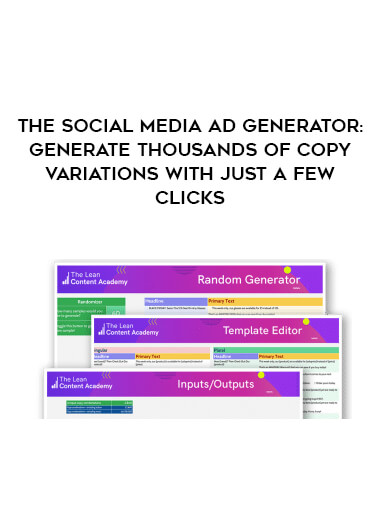 Salepage : The Social Media Ad Generator: Generate Thousands Of Copy Variations With Just A Few Clicks

Are you ready to make the most of Black Friday and the holiday sales this Thanksgiving?
If not, you risk missing on your share of the billions that will be spent online over the course of the weekend.
Stop missing out on potential sales!
Today's online customers make you WORK for their attention. And getting your copy right is key to nabbing their eyeballs.
(Not literally. We hope.)
The problem is that writing high-converting social media copy is not easy – it takes time, it costs money, and you're not always sure what's going to work and what's going to crash and burn.
Boost your conversions with THOUSANDS of copy combinations – all written by professionals
Let us do the hard work for you!
The Ad Copy Generator comes pre-loaded with more than 100 professionally-written headlines and primary text templates – every single one of them optimised to boost sales and to grow revenue.
But that's not all.
Customise your copy with just a few clicks using smart dynamic tags
Our copy comes pre-loaded with dynamic tags – so you can enter the information about your brand or product, and watch as the Ad Copy Generator slots it seamlessly into our templates.
Solve every ad copy headache you've ever had
Headlines
50+ variants – all short, sharp, snappy and specifically engineered to prompt ACTION
Primary Text
50+ variants – designed to grab attention through long-, medium- and short-form copy
Text Kickers
Customise your headlines so that they never become 'wallpaper' to your audience
Emoji Randomizer
With the click of a button, sprinkle in a random selection of emoji leaders to add colour
Simple to use – with powerful results
This is more stacked with formulas than Walt and Jesse's lab – but you don't even need to worry about that!
It's all working behind the scenes, so that you can produce more with less effort.
Create limitless variations on your copy with minimal effort
Our emoji randomizer, dynamic tags and kicker combinations mean that you can create endless variations on your copy.
Fresh creative means fresh eyes – and a route for you to constantly get your message in front of the people who matter.
It even includes a discount calculator!
Tired of doing sums every time you want to run a discount? The Ad Copy Generator does it for you!
Just enter your sale price and your regular price, then choose whether you want your discount to appear as a percentage or an amount.
Built by an agency with a proven track record in top-notch content creation
I'm Aidan Coughlan – founder of Far From Avocados, one of Ireland's top content marketing agencies.
Like all of the Lean Content Academy tools, this has been developed as an in-house tool over the course of the last three years.
It's been tried, tested, refined – and most importantly, proven in its effectiveness.
No wonder we've sold more than 12,000 products in just a few months. And no wonder our customers love what we do…
Edit our professionally written templates – or add your own
We're experts in writing high-converting social media content, and we've packed in more than 100 pieces of pre-written, fine-tuned copy into this generator.
But better still, you can edit these templates to make them more unique to your brand – or an almost unlimited number of your own variations.