The Vitamin Cure
Course Download Size : 3.8 MB
Delivery : Digital Download Immediately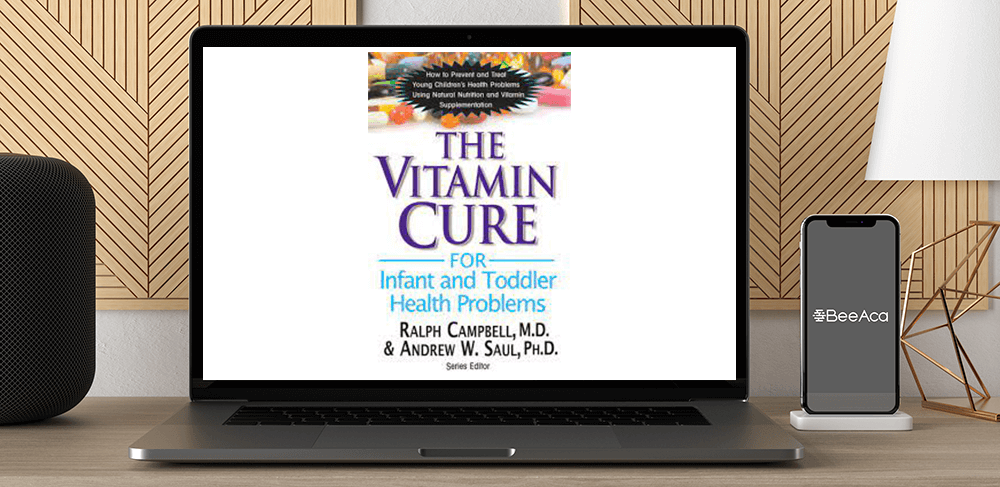 The Vitamin Cure for Infant & Toddler Health Problems.epub
Salepage : The Vitamin Cure for Infant & Toddler Health Problems.epub
Archive : The Vitamin Cure for Infant & Toddler Health Problems.epub
Course Download Size : 3.8 MB
Description
Most people's diets are woefully inadequate for providing proper nutrition. Even good diets fail to deliver sufficient levels of nutrients. The Vitamin Cure book series highlights the safe and clinically effective use of vitamin supplements for a variety of illnesses. Research continues to prove the immense value of vitamins for maintaining health and fighting disease. The Vitamin Cure books, written by authors who are recognised experts in their field, deliver authoritative, up-to-date and practical information on taking vitamins for particular health problems. Most paediatricians are so certain of what is "proper" care that they are super-sensitive about a parent telling them (or even suggesting) what to do. This is where this book is truly different – it is written by a paediatrician who actively supports empowering parents and who, also, strongly advocates nutritional medicine for babies and small children. THE VITAMIN CURE FOR INFANT AND TODDLER HEALTH PROBLEMS provides commonsense approaches to many of the problems parents face with young children.
Topics include colic, ear infections, diarrhoea, fever, breastfeeding, solid foods, respiratory infections and flu, nappy rash, fretfulness, allergies, SIDS (sudden infant death syndrome), pertussis (whooping cough) and a clear-cut, holistic discussion of vaccinations. Plus, the book discusses paediatric visits, child rearing, vitamin supplements, high-dose vitamin C therapy and much, much more. Common sense, let's-use-fewer-drugs healthcare worked back when Dr. Campbell was first in practice-and it works now. This book favours a three-tiered approach for healthier children: (1) Good diet and a multivitamin, at a minimum; (2) Special dietary considerations and vitamin supplements for special needs and (3) appropriately high orthomolecular doses of nutrients when there is illness. Say Dr. Campbell: "I learned valuable things from the genius doctor I first practised with about calming children, and parents. I always attempted to determine the reason for crying and treated accordingly, without drugs." Here is the much-awaited sequel to Drs. Ralph Campbell and Andrew W. Saul's very popular previous work, The Vitamin Cure for Children's Health Problems.
Buy Vitamin Cure for Infant and Toddler Health Problems by Ralph Campbell from Australia's Online Independent Bookstore, Boomerang Books.
Health and Medical course
More information about Medical:
Medicine is the science and practice of establishing the diagnosis, prognosis, treatment, and prevention of disease.
Medicine encompasses a variety of health care practices evolved to maintain and restore health by the prevention and treatment of illness.
Contemporary medicine applies biomedical sciences, biomedical research, genetics, and medical technology to diagnose, treat, and prevent injury and disease,
typically through pharmaceuticals or surgery, but also through therapies as diverse as psychotherapy, external splints and traction, medical devices, biologics, and ionizing radiation, amongst others.
Medicine has been around for thousands of years, during most of which it was an art (an area of skill and knowledge) frequently having connections to the religious and
philosophical beliefs of local culture. For example, a medicine man would apply herbs and say prayers for healing, or an ancient philosopher and physician would apply bloodletting according to the theories of humorism.
In recent centuries, since the advent of modern science, most medicine has become a combination of art and science (both basic and applied, under the umbrella of medical science).
While stitching technique for sutures is an art learned through practice, the knowledge of what happens at the cellular and molecular level in the tissues being stitched arises through science.
Readmore: Health & Fitness