Thrive – Self Healing by Ayurveda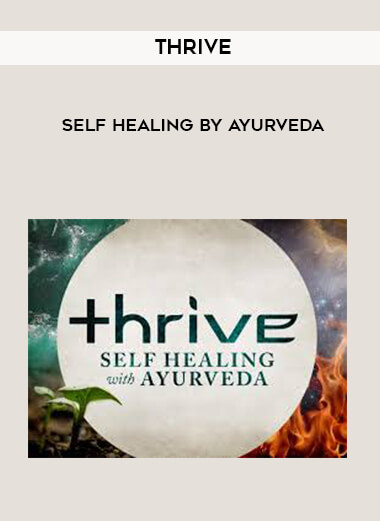 Salepage : Thrive – Self Healing by Ayurveda

In this series that connects ancient knowledge to modern living, explore Ayurveda through five routes.
The Documentaries
– Ancient Medicine, Modern Application – Discover how ayurveda wisdom may assist you in developing a more intimate relationship with yourself and the natural world around you.
– What is Interfering with Your Vitality? – Release ama, or stagnant mental and physical poisons, to live a more happy, mindful, and connected existence.
– The Doshas: Your Body's Blueprint Discover how the doshas, Ayurveda's three basic energies, may help you live genuinely in your unique, bio-individual body.
– What in the World Should I Eat? – Discover the fundamentals of an ayurvedic diet and how to use food as a medication to eliminate impurities and boost energy.
– Emotional Healing – Discover how your body digests not just food but also emotions. Learn how to break free from negative emotional and mental habits.
Video Tutorials
– Ayurvedic Morning Rituals – Begin your morning with self-care with this brief practice that includes personal prayer, light movement, and a nature-connection exercise.
– Ayurvedic Sleep Rituals – Align with the cycle of the day as regulated by the doshas and discover strategies to help fall asleep and remain asleep.
– Ayurvedic Self-Diagnosis – Using tongue inspection as well as face and body type analysis, read the indicators of your body to understand your imbalances.
– Self-Massage for a Healthy Nervous System – Use two techniques to relieve anxiety, purify your organs, and exfoliate your skin: raw silk glove brushing (gharshana) and oil massage (abhyanga).
– Oral Care for Radiant Health – Use nasal flushing, oil pulling, and tongue scraping to cleanse your nose, ears, and mouth.
Recipes & Cooking
– Ayurvedic Chutneys for Healthy Digestion – Use fresh vegetable, spice, and fruit chutneys customized to your body type to transform mealtime into a therapeutic feast.
– Ayurvedic Spices for a Healthy Body Learn how to make spice blends that are specific to your dosha type. Each combination improves digestion, decreases inflammation, and restores balance to your system.
– Kitchari: Ayurvedic Cleansing Food This wholesome and tasty dish comprised of rice, lentils, and spices will cleanse your digestive tract and eliminate pollution from your body.
Yoga Exercises
– Yoga for Strength and Stamina – In this strong flow, you will train your lower body while opening your upper body and anchoring your energy into the earth.
– Yoga for Digestion – With rigorous asana, heat-generating pranayama, a 6-minute ab practice, and cleaning kriya, you can strengthen your core and enhance your metabolism.
– Yoga for Rest and Relaxation – We will calm the mind and encourage profound relaxation into our bodies in this slow-moving hatha flow grounded in the heart center.
Meditation Techniques
– Chakra Meditation for Dosha Balancing – Using mantra, imagery, and sacred geometry, balance your seven primary chakras as well as your doshas.
– Mudra Meditation for Self-Healing – Use mudras (holy hand movements) to summon the healing capacity that already exists within you, which will boost your energy and lessen worry.
– Heart Space Meditation – Initiate emotional transformation by journeying through the five koshas of your body and mind before arriving at your heart.
– Calming Cooling Pranayama & Meditation – Using Chandra Bhedana pranayama and contemplative meditation, channel the cooling, calming energy of the moon and achieve deep peace.
– Sound Healing Mantra Meditation – In honor of Lord Dhanvantri, the deity of medicine, chant a strong and calming mantra. Then, do a radiant body meditation.
– Energy Balancing Pranayama & Meditation – Equilibrate the polar energy of your body using Nadi Shodhana pranayama and a meditation. You may live in harmony with your genuine nature when you are in balance.