Thubten Lhundrup – Practical Meditation with Buddhist Principles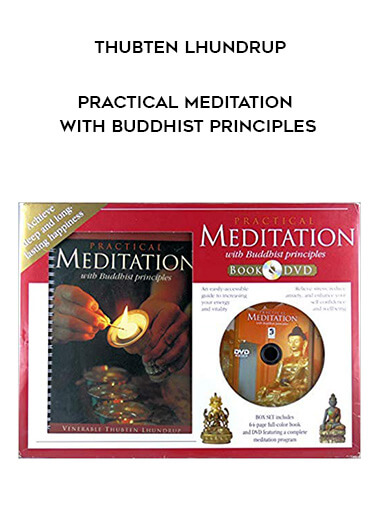 Salepage : Thubten Lhundrup – Practical Meditation with Buddhist Principles

Do you find that your mind is often occupied with the stresses of modern life? Do you find yourself worrying about such things as your financial situation, what needs to be done at work or home each day, whether your family and friends are happy, and where your life is heading? Learn to quieten such wandering thoughts, which Buddhists refer to as the 'monkey mind,' with Practical Meditation with Buddhist Principles.
Buddhism is a religion, a philosophy, a discipline of the mind, and a way of life. The Buddhist Path is a personal experience of achieving deep and long-lasting happiness by gaining wisdom and a mind free of negative emotions. This can only happen if we cultivate positive practices and realize the benefits of doing so. Meditation is an essential means of accomplishing this.
Venerable Thubten Lhundrup has been a Buddhist monk for the past eight years. He regularly teaches at the Atisha Center, a meditation center in the Foundation for the Preservation of the Mahayana Tradition. He shows you how to meditate with step-by-step instructions and informative background information on the subject.
The Practical Meditation with Buddhist Principles program allows even the most inexperienced beginner to commence a journey to enlightenment – a journey that is guaranteed to bring a sense of peace, calm, and, ultimately, happiness.
The Kit Contains:
Practical Meditation book: Featuring 64 pages of full-color photographs, information on the history and philosophy of Buddhism, and meditations on a range of themes.
Practical Meditations
DVD: Join Venerable Thubten Lhundrup as he introduces you to Buddhism and guides you through anumber of calming meditations.