Turning Points in Middle Eastern History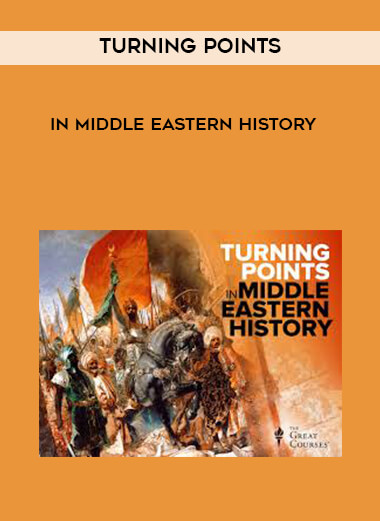 Salepage : Turning Points in Middle Eastern History

36xWEBRip | English | MP4 + PDF Guide | 1280 x 720 | AVC ~2010 kbps | 29.970 fps
AAC | 192 kbps | 44.1 KHz | 2 channels | 18:18:39 | 16.9 GB
Genre: eLearning Video / History
Turning Points in Middle Eastern History offers you a penetrating look at the fascinating and thoroughly remarkable past of this storied part of the world. Taught by professorial lecturer and Middle East expert Eamonn Gearon of Johns Hopkins University, these 36 lectures unfurl a breathtaking panorama of history, exploring a 1,300-year window from the rise of the warrior prophet Muhammad to the fall of the Ottoman Empire after World War I. The history you'll discover here is as dazzling as anything in the Arabian Nights, and is all the more astonishing for being the true story of the Middle East.
Each lecture focuses on a specific historical moment that changed the direction of events or the narrative of history. By investigating these momentous happenings that have most significantly shaped the Middle East and its diverse societies, you'll gain a deeply informed understanding of how the past informs the present
36 lectures – 30 minutes each, plus a detailed PDF Course Guide included.
Lectures:
Lecture 1 Muslim Empires: Land, Language, Religion
Lecture 2 Muhammad and the Dawn of Islam – 622
Lecture 3 Arab Invasion of North Africa – 639
Lecture 4 Umayyad Caliphate in Damascus – 661
Lecture 5 Battle of Karbala – 680
Lecture 6 Arab Invasion of Andalusia – 71
Lecture 7 Battle of Talas – 751
Lecture 8 The Founding of Baghdad – 762
Lecture 9 Islamic Golden Age Begins – 813
Lecture 10 Qairouan University – 859
Lecture 11 The Fatimids of Cairo – 969
Lecture 12 Umayyad Exile in Cordoba – 784-1031
Lecture 13 Al-Ghazali and Orthodoxy – 1090
Lecture 14 Crusaders Capture Jerusalem – 1099
Lecture 15 Muslims in the Court of Roger II – 1130
Lecture 16 Saladin: Chivalry and Conquest – 1187
Lecture 17 The Egyptian Mamluks – 1250
Lecture 18 Mongols Sack Baghdad – 1258
Lecture 19 Ottoman Empire Rises – 1299
Lecture 20 Mansa Musa, Richest Man – 1324
Lecture 21 Ibn Khalduns Masterpiece – 1377
Lecture 22 Ottomans Seize Constantinople – 1453
Lecture 23 Fall of Granada – 1492
Lecture 24 Safavid Dynasty of Persia – 1501
Lecture 25 Selim the Grim – 1512
Lecture 26 Suleiman the Magnificent – 1520
Lecture 27 Second Siege of Vienna – 1683
Lecture 28 The Saud-Wahhab Pact – 1744
Lecture 29 Napoleon Invades Egypt – 1798
Lecture 30 Murder at the Citadel – 1811
Lecture 31 French Invasion of Algeria – 1830
Lecture 32 East India Company in Yemen – 1839
Lecture 33 Egypt, Europe, and the Suez Canal – 1869
Lecture 34 Discovering Middle East Oil – 1908
Lecture 35 World War I in the Desert – 1914
Lecture 36 The Last Caliphate Falls – 1924