Ultimate Weight Loss
Course Download Size : 346.2 MB
Delivery : Digital Download Immediately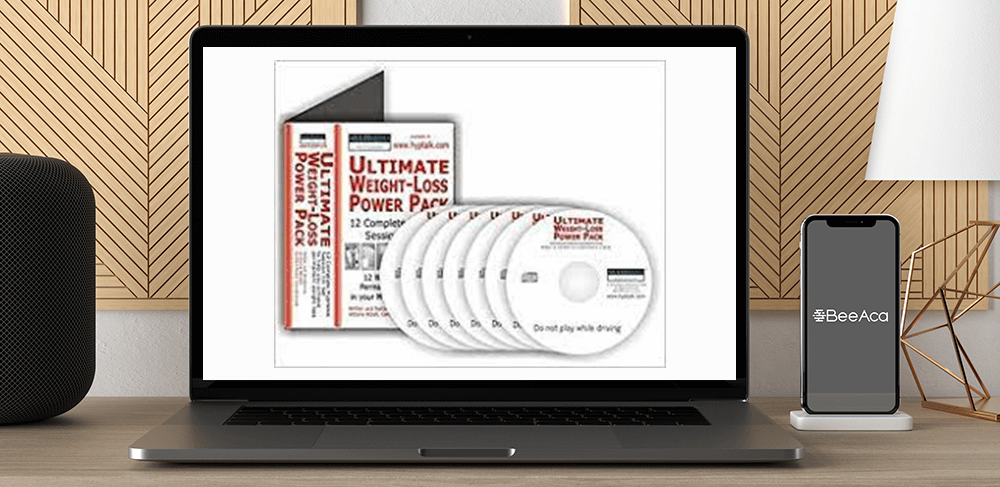 Ultimate Weight Loss Power Pack
Salepage : Ultimate Weight Loss Power Pack
Archive : Ultimate Weight Loss Power Pack
Course Download Size : 346.2 MB
A simple and easy to follow model for using hypnosis to find and resolve your core issues that are responsible for keeping the weight on your body!
Week 1 – The Foundation: The first week will only take you 20 minutes a day. During this week, we are creating the foundation for this program. Our objective this week is to set a goal, learn how to go into a hypnotic state, come up with 10 limiting beliefs, and turn those limiting beliefs into powerful positive affirmations. You will learn how to write your own powerful affirmations. Did you know that writing your own affirmations can be up to 10x more powerful?
Week 2 – Hunger Dial: You will learn to detect the difference between real hunger and emotional hunger.
Week 3 – Screen of the Mind: (Similar to Weight Release and Body Talk) In this session you will work with two screens. A screen with your weight situation the way it is now and another screen that brings into your reality the new behaviors and body you will create.
Week 4 – Access the Cause: In this session you will go back in time to the root of the problem. Sometimes just getting an understanding of what's causing you to gain weight can help it resolve on it's own. This will be a way to find out at an even deeper level, what beliefs are responsible for keeping this extra weight on. At this level of awareness, we can invite new resources in to help you in your endeavors, where they have hindered you in the past.
Week 5 – Drinking Water: (Similar to Release Weight with Water) Drinking water is one of the most important habits you can ever create for yourself. Not only will water help you to redue weight, it will help you with a wide range of other ailments, including stress, depression, fatigue, allergies, arthritis, and digestrion problems… just to name a few. The affect that water has on the body is enormous. The suggestions in this program will help you to begin to reduce weight by drinking water and reminding you to replace other beverages with water.
AVAILABLE IMMEDIATELY
Week 6 – Exercise: (Similar to I Love to Exercise) This week we will add exercise to the program. You will feel the effects of exercise taking place… whether you excersize for 5 minutes or 50 minutes, it's important to just get the habit going … this program will help you to integrate exercise into your life and overcome past hurdles to exercise you may have experienced.
Week 7 – Healthy Eating: This week the focus will be on healthy eating habits. After this weeks sessions, you will look at food in a whole new way and enjoy eating nutrious foods.
Week 8 – metabolism: This week we will work with a hypnosis technique for turning up your metabolism and get it working at a level to help you to burn calories and increase your energy.
Week 9 – Banish Old Patterns of Behavior for Good: During this session you will utilize one of the most powerful techniques of Neuro Linguistics Programming. This particular technique was originated by a famous Psychologist, and has since been widely used by students of Tony Robbins books and seminars. It's called "Swish."
Week 10 – Melt Fat: (similar to remove cellulite) In this session you will work with the inside of your body; your fat cells. Your subconscious mind controls everything – including cells growth. Even though you may be doing all the right things for your body, your fat may hang around a little longer than you'd like. In this program we will instruct the subconscious mind to let go of the fat.
Week 11 – Reshaping Your Body: In this session, you will work with the appearance of your body image. You will reinforce the respect you have for your body and all of your new eating, and exercise, and water drinking habits.
Week 12 – Maintenance:  This program will summarize everything you have been learning over the last eleven weeks. The suggestions will be around reinforcing success you have already achieved, as well as giving you additional motivation to keep going.
There are 12 complete sessions in this program, plus a lot of additional training and information that is not ordinarily included in regular hypnosis programs. Isn't it time for you to give yourself the gift of a new body? You deserve it and you can do it … I know you can!
About the Author
Victoria Wizell is a Certified Master Hypnotherapist, a Certified HypnoBirthing Facilitator, a Certified Weight Management Specialist, and a Level One Neuro Linguistic Programming Practioner.
She Founded Hypnotherapy of Nevada and Multimedia Mediations in July of 1999.
Operates legally with a Clark County business license and a professional office in the state of Nevada.
Graduate of The American Academy of Hypnosis, in Las Vegas, Nevada
A Graduate of PSI Seminars, since 1998, Victoria Wizell has coached the Women's Leadership training and Life Success trainings in Northern California. She has also successfully coached their 90-day Pacesetter Leadership Dynamics three times.
Studying metaphysical and personal growth concepts since 1986, Victoria has utilized the power of hypnosis on herself to attain a myriad of successes in her life from overcoming the fear of needles, being able to be calm and relaxed during any doctor or dentist visit, quitting her own smoking addiction, and attaining financial success and liberty in a business she truly loves.
Any goal that she strives for, she attains and attributes her success to clearly visualizing the desired outcome in hypnosis. And now you have an opportunity to utilize the very same technique in achieving your goals.
Having been successful in the advice-giving business as a former Financial Consultant, Victoria worked for one of the largest stock brokerage firms on Wall Street for many years.
Victoria has an intuitive nature and a gift for being able to establish a great rapport, quickly and easily with people she meets.
Readmore: Internet Marketing