Vinicius 'Trator' Ferreria Lower Belt Prescription DVDRip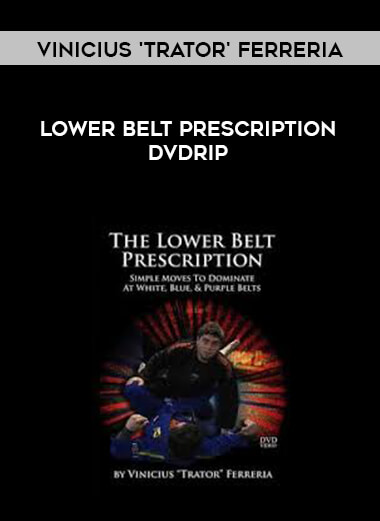 Salepage : Vinicius 'Trator' Ferreria Lower Belt Prescription DVDRip
Vinicius Trator Ferreria Is A Killer From Brazil Who Has Solved The Code To Winning At Lower Belt Levels.  Use His Recipe To Start Winning In Class & In Tournaments Now!
Bernardo Faria  Black Belt 5x World Champion
The first time I ever trained with Vinicius Trator was 1 year and half ago (2015) , here in NYC, when he came to visit Marcelos school. At that time he was just 18 years old and already a super tough purple belt. Last year (2016) he came back, right after he won the Worlds as purple belt, to get ready for the Worlds No-Gi as brown belt. Vinicius with only some months as brown belt, was able to win his division in the Worlds No-Gi and also get second place in the Open Class.
I think he is probably one of the best colored belt fighters I have ever seem. He has a very basic and efficient game that almost nobody in the blue, purple and brown belt could stop. In this World of modern techniques, Vinicius plays a very solid and simple game, mixing the new techniques with the old school style.
I believe that if you are White, Blue, Purple or Brown belt this instructional is for you. And also if you are already black belt, its always good to see what the new generation is bringing for the future. I made a blog post with Vinicius to my blog bernardofaria.com and he showed to be a great instructor.
Vinicius Trator Ferreria isnt built like a body builder  hes short and he has a little belly.  Hes friendly and happy and youd never know hes an elite BJJ competitor.  When he gets on the mat though, all he does is win.
Hes been a wrecking machine at blue, purple and now brown belt.  He won over 300 Gold medals and only lost about 15 times.  He may very well be the greatest lower belt  in terms of winning tournaments  in history.
THE HOW HAS HE DONE IT?
How has he done it?  Well Trator (Portuguese for Tractor) has a formula.  He pulls guard and typically goes right for the Lasso  where he wraps his leg around his opponent on tops arm.  Guys at that level dont do well against the lasso.  He starts off in the Lasso and if his sweep or submission doesnt work (it usually does) he moves to the Single Leg X and he always sweeps.
When he stands he knows exactly how to pass the lasso, the De La Riva Guard and how to submit  Its as easy as that.
THE BEST WAY TO WIN TO WIN AT THE LOWER BELTS IS TO TRAIN SPECIFICALLY FOR THAT GOAL
Think about it for a second… If you are trying to win at the lower belt levels you should be training moves that the other lower belts arent very good at defending on offense as well as defending the moves they are trying on you.  This has been the key to Trators game.  Know where they are weak on defense and what they will try to attack with you with on offense.
Once you have learned the formula your results will change
WHAT ARE PEOPLE SAYING ABOUT TRATOR??
I met Vinicius (Trator) some time ago when he arrived at the Alliance. I quickly noticed that he had a very interesting Jiu-Jitsu game that was very efficient, simple and direct. In my opinion, it is one of the best examples of how jiu-jitsu should be in the colored belts. Many athletes have a baseline game that will be inefficient in the next levels, Vinicius focuses on techniques that are extremely efficient now and will be the basis for continued development at the highest level. It is also important to emphasize his ability to share knowledge and teach. I learned a lot from him and added to my game many techniques I got from him.
Luiz Nunes, Black Belt  under Fabio Gurgel
I met Trator (Vinicius) when I moved to Alliance SP and since the beginning he became an inspiration for me since he had won over 200 titles before he turned 19 and also because everyone used to say I kind of looked like him. As time went by, we became good friends and his personality, skill and devotion to Jiu Jitsu never seized to amaze me. There are few if any that share Trators talent and will to be the best in everything that he does, and this mentality has taken him to the top of the podium countless times in most of the worlds hardest tournaments in all belts hes competed at. After training with him on a daily basis and watching him become both a gi (purple belt) and no gi (purple and brown belt) world champion, I am convinced that Trator will be one of the best in all belts he competes at. He is and will always be a brother, teacher, mentor and an inspiration for me.
Pedro Hannud  Blue Belt  Alliance Sao Paulo
I was very excited to hear that Trator was putting out a DVD! Having trained with him at Marcelo Garcias academy, Trator quickly coached me through some setups and chained-sequences that Ive been using to great success at open mat. While the foundation of his jujutsu is easy to grasp and perform, what I like most is how it lends itself to further development; adding his techniques to my repertoire is not only resulting in my individual game becoming more effective, but also a game that continues to grow broader and deeper. I very much look forwa