Werbeanzeigen Masterclass – für Einsteiger und Aufsteiger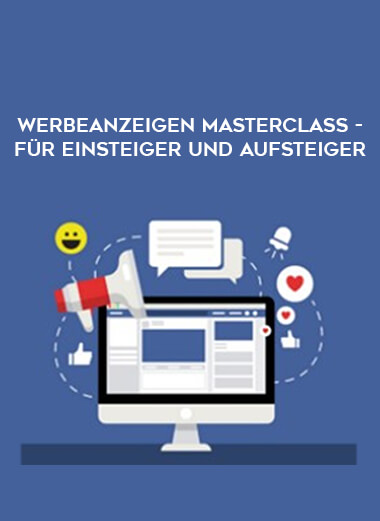 Salepage : Werbeanzeigen Masterclass – für Einsteiger und Aufsteiger

Would you like to activate successful advertising campaigns on Facebook, Instagram, Twitter, and LinkedIn? Or do you want to get started with Google ADS and Google Adsense right away? Then this Advertising Masterclass is just what you need.
In this course, I'll talk to you about Facebook ads, Instagram ads, Google ads, LinkedIn ads, and Twitter ads. And don't worry, no prior knowledge is required for these topics. Each chapter includes videos for both beginners and experts.
But what exactly will you learn in this course?
How does one stop a Facebook marketing campaign? How does a Facebook Pixel work, and what does it offer me? Customer Audience or Lookalike Audience? This section of the course will teach you all you need to know about advertisements and important settings in the Facebook Advertisement Manager.
Instagram: How can one stop Instagram advertising and get new customers? What should I keep in mind while creating Instagram advertisements, and where will they be created?
LinkedIn advertisements We also deal with LinkedIn advertisements in this course's title. I'll show you how quickly you can generate new contacts on LinkedIn. How to Get Leads on LinkedIn, as well as Conversions and Engagement You may define your target audience and achieve various marketing goals on LinkedIn.
Google Ads: How can one stop a Google or YouTube advertisement? In this chapter, you'll learn more about various types of Google Ads and get a complete overview of the Google Ads Manager and Google Keyword Planner. I'll show you how to use Google AdWords in practice.
Build an agency. In this chapter, you'll learn how to build your own Social Media Agency using everything you've learned. What you should keep in mind. What documents you'll need for your startup, and how you'll approach new customers.