World Extreme Cagefighting Collection (WEC)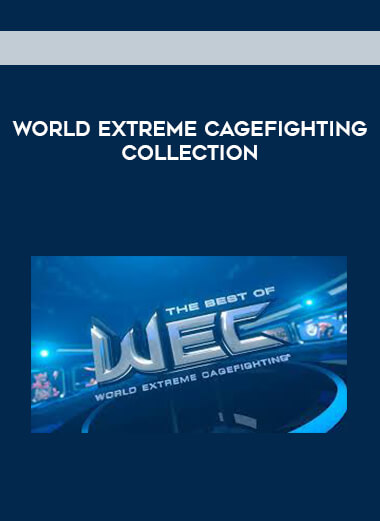 Salepage : World Extreme Cagefighting Collection (WEC)
World Extreme Cagefighting (WEC) was an American mixed martial arts (MMA) promotion. It was purchased by Zuffa, LLC, the parent company of Ultimate Fighting Championship (UFC), in 2006. In its final incarnation, it was made up of 3 weight classes: 135, 145 and 155 lbs. To accommodate the smaller fighters, the WEC's cage was 25 ft. in diameter—5 ft. smaller than the standard UFC cage.
History
The organization was started in 2001, by Scott Adams and Reed Harris. Between 2001 and 2006, most of their events were held in Lemoore, California and aired on HDNet. In December 2006, Zuffa purchased the WEC. With the purchase, the WEC continued as a separate promotion with its own roster of fighters. Adams was retained after the purchase as the organization's matchmaker. Harris and Adams were named co-General Managers and were both active in the new WEC.In 2008, Sean Shelby was named the new match-maker for the promotion by Zuffa.
Zuffa made several changes to the promotion after the purchase. It discontinued its pentagonal cage for a modified version of the UFC's octagonal cage. The championships of fighters who were contracted UFC fighters were vacated. The promotion moved to focus on lighter weight classes, abandoning their heavyweight and super heavyweight divisions and championships, and retaining their bantamweight and featherweight divisions—two divisions not then present in the UFC.After the purchase, several of the WEC events were held in Zuffa's hometown of Las Vegas, Nevada, much like the UFC. The WEC aired their events live on Versus, formerly known as the Outdoor Life Network, TSN in Canada, and on The Score, also in Canada.WEC's first live event was broadcast on June 3, 2007 on Versus from The Joint at the Hard Rock Hotel and Casino in Las Vegas.
The WEC announced that it would dissolve their light heavyweight and middleweight divisions after their December 3, 2008 event to further their concentration on lighter classes. Fighters from the light heavyweight and middleweight divisions started fighting in the UFC after the dissolution of their divisions.Also, on February 3, 2009, the WEC officially announced the creation of a 125 lb. flyweight division and the dissolution of its welterweight division (flyweight would have been the last division under the "Unified Rules of MMA" to be activated under Zuffa, excluding Super Heavyweight). Fighters from the welterweight division started fighting in the UFC after the dissolution of their division. The only weight class that still crossed over between the WEC and the UFC prior to the merger was the 155 lb lightweight division.
On January 8, 2010, World Extreme Cagefighting announced that AMP Energy would be the official energy drink of WEC. Amp Energy also sponsored three of the WEC's top stars – featherweight Urijah Faber, featherweight Chad Mendes, and bantamweight Joseph Benavidez.
On April 24, 2010, the WEC held its only pay-per-view event, WEC 48, which featured two championship fights. The main event featured WEC Featherweight Champion José Aldo defending his title against former champion Urijah Faber.
On October 28, 2010, UFC President Dana White announced that the WEC would merge with UFC.
Events:
2002-08-31 WEC.04.Rumble.Under.The.Sun.VHSrip.Xvid-Ace
2002-10-18 WEC.05.Halloween.Havoc.2002.DVDRip.XviD-JETSET
2003-03-07 WEC.06.Return.Of.A.Legend.DVDRip.XviD-JETSET
2003-08-09 WEC.07.This.Time.Its.Personal.DVDrip.XviD-Ace
2003-10-17 WEC.08.Halloween.Fury.II.2003.DVDRip.XviD-JETSET
2004-01-04 WEC.09.Cold.Blooded.DVDRip.XviD-JETSET
2004-05-21 WEC.10.Bragging.Rights.2004.DVDRip.XviD-JETSET
2004-08-20 WEC.11.Evolution.DVDRip.XviD.WolFRip
2004-10-21 WEC.12.Halloween.Fury.3
2005-01-22 WEC.13.Heavyweight.Explosion.DVDRip.XviD-Zeus
2005-03-17 WEC.14.Vengeance.HDTV.Xvid-Zeus
2005-05-19 WEC.15.Judgement.Day
2005-08-18 WEC.16.Clash.of.the.Titans.2
2005-10-14 WEC.17.LHW
2006-01-13 WEC.18.Unfinished.Business
2006-03-17 WEC.19.Undisputed.03.17.06.HR.HDTV.AC3.5.1.XviD-BamHD
2006-05-05 WEC.20.Cinco.de.Mayhem
2006-06-15 WEC.21.World.Extreme.Cagefighting.21.TapOut.HDTV.XviD-DHW
2006-07-28 WEC.22.The.Hitman.DVDRip.XviD-JR
2006-08-17 WEC.23.World.Extreme.Cagefighting.Hot.August.Fights.HDTV.XviD-DHW
2006-10-12 WEC.24.HF5.FF.XviD-KM2T
2007-01-20 WEC.25.Las.Vegas
2007-03-24 WEC.26.Las.Vegas
2007-05-12 WEC.27.Las.Vegas
2007-06-03 WEC.28.Faber.vs.Farrar
2007-08-05 WEC.29.World.Extreme.Cagefighting.Live.08.05.07.DSR.XviD-OMiCRON
2007-09-05 WEC.30.World.Extreme.Cagefighting.09.05.07.DSRip.XviD-aAF
2007-12-12 WEC.31.Faber.vs.Curran.DSR.XviD-FCZ
2008-02-13 WEC.32.World.Extreme.Cagefighting.2.14.08.DSRip.XviD-aAF
2008-03-26 WEC.33.World.Extreme.Cagefighting.3.26.08.DSRip.XviD-aAF
2008-06-01 WEC.34.Destiny.HDTV.XviD-433
2008-08-03 WEC.35.HDTV.XviD-aAF
2008-11-05 WEC.36.HDTV.XviD-KYR
                  WEC.36.Prelims  
2008-12-03 WEC.37.PDTV.XviD-KYR
2009-01-25 WEC.38.HDTV.XviD-KYR
2009-03-01 WEC.39.HDTV.XviD-KYR
2009-04-05 WEC.40.HDTV.XviD-KYR
2009-06-07 WEC.41.REPACK.HDTV.