Xande Ribeiro BJJ Library Anti Wrestling No Gi Guard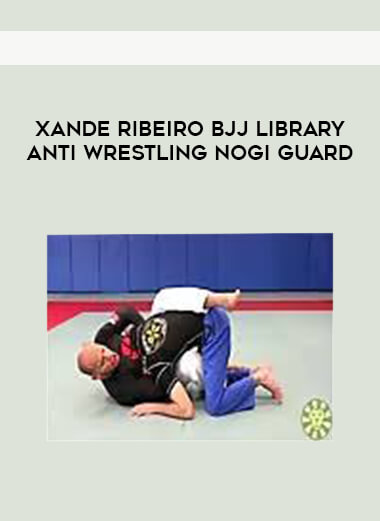 Salepage : Xande Ribeiro BJJ Library Anti Wrestling No Gi Guard
Xande's Anti Wrestling No Gi Series 10 – Knee Shield To Half Guard Bodylock Backtake
Sometimes when in the knee shield your opponent will not apply pressure and will sit back to stalk the game and wait for their next opportunity. In this case you can close the distance by going for a double under bodylock from the half guard and work your way to the back from there.
Xande's Anti Wrestling No Gi Series 9 – Triangle from the Knee Shield
Xande teaches a triangle set up from the knee shield when your opponent is bearing down with a lot of weight. This technique is fairly advanced and can be difficult to master as a key element of its success is that your opponent must be giving you the correct reaction by applying lots of pressure on to you.
Xande's Anti Wrestling No Gi Series 8 – Butterfly Hook Sweep
Xande teaches an adapted version of the butterfly hook sweep for someone who is on both knees but is sitting back and not engaging. In this hook sweep we use double overhooks with a ten finger grip to remove our opponent's opportunity to base and use our upper body and hook to sweep them over.
Xande's Anti Wrestling No Gi Series 7 – Arm In Guillotine from Butterfly Guard
Xande teaches a similar movement to the arm drag except that this time we will adjust our grips to attack the neck with a guillotine from the butterfly guard. This setup is perfect to use against people who pass on both knees.
Xande's Anti Wrestling No Gi Series 6 – Arm Drag from Butterfly Guard
Wrestlers will often try to pass your guard with heavy base and it's important to always threaten their base when going for the arm drag. In this lesson Xande goes over a solution to a common problem that can greatly increase your chances of getting the arm drag.
Xande's Anti Wrestling No Gi Series 5 – Closed Guard Bodylock to Back Take
In this next lesson we learn how to combine our armlock attack from the bodylock with a back take to advance our position. Most wrestlers have an underdeveloped sense of defending the back and this is a perfect way to advance your position to increase the likelihood of finding a submission.
Xande's Anti Wrestling No Gi Series 4 – Closed Guard Body Lock to Straight Armlock
Xande covers the details on how to control your opponent with the body lock and work the straight armlock submission. The closed guard body lock is a great control for mixed martial arts as it removes the space between you and your opponent making it hard to do much damage with strikes. It's also a great control against wrestlers because it will frustrate their hip mobility and force them to free the control before advancing with a pass
Xande's Anti Wrestling No Gi Series 3 – Kimura from Closed Guard
Xande covers a few ways to enter into the kimura while preventing your opponent from posturing up to finish the submission. The kimura is an excellent submission to hunt for when playing from your closed guard.
Xande's Anti Wrestling No Gi Series 2 – Closed Guard Overwrap to Omoplata
In this second part of the no gi guard series, we learn to set up an omoplata from the overwrap position. This position is great against wrestlers as we use the overwrap position to kill our opponents mobility and remove all space to slow down and frustrate their game.
Xande's Anti Wrestling No Gi Series 1 – Closed Guard Overwrap Control to Triangle
In this lesson Xande teaches how to set up the triangle from the closed guard overwrap control. The closed guard overwrap is a very useful position to utilize against wrestlers as they will usually force the top position and look to pass with heavy hips. The overwrap control will tie up and frustrate wrestlers by reducing space between you and your opponent and killing their mobility while allowing you to set up your next attack.