Yoga for Beginners – Start your Yoga Journey – KhushiSeYoga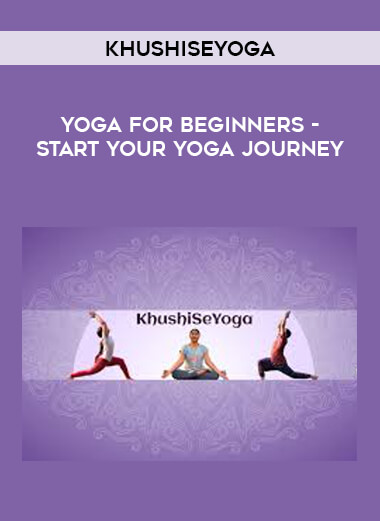 Salepage : Yoga for Beginners – Start your Yoga Journey – KhushiSeYoga

Looking to start your yoga journey but don't know how? Unable to join regular classes due to work or time issues?
We all know the benefits of yoga and how it helps to be fit and healthy, so we have created the Yoga for beginners course where we learn and practice breathing techniques, Joint stretching, Yoga and guided meditation for a healthy lifestyle.
Maybe you've tried a few classes and now you're ready to establish a regular yoga practice. Or perhaps you've never taken a class but have heard about the benefits of yoga and want to give it a go.
There are plenty of benefits to be had from embarking on the yogic journey, and deciding to commit to a regular practice is an exciting step. Luckily, We at KhushiSeYoga have created this course to support you on your path, help you connect with the yoga, and help you find your personal and be a part of the Khushi Se Yoga community.
And the best part? Yoga is an inclusive practice—everyone is invited, and all can participate.
A great place to start as a beginner or for parents is…beginner yoga. So here we're sharing some of the current research on the benefits of yoga, definitions for basic yogic terms, tips for diving in with confidence, and more.
The Yoga for beginners Program is an opportunity for the students to learn three ancient and powerful practices, and align one's system with his objectives of breath awareness and stress management. These techniques help students to be physically, mentally, and emotionally fit and by improving the Respiratory, circulatory, and Nervous system. The three practices are,
1. Sukshma Vyayam (Yogic stretching)
More than 15 basic and preparatory movements to warm up the body, muscles, and align the joints are taught in the program. These movements help prevent injuries during difficult yoga poses.
2. Pranayama (Breathing awareness)
Breathing is an important pillar of yoga and meditation. One can control the rhythms of Pranic energy with pranayama and achieve a healthy body and mind.
Yoga for Healthy spine
simple yoga Asana sequence for daily practice for a healthy spine
4. Dhyana (Short Guided Meditation)
The final objective is controlling the mind and achieving meditation with no thoughts. It is initially difficult to achieve; hence we use breath and guided meditation techniques through instructions for attaining calmness in mind.
Lifetime support and practice Yoga with Khushi Se Yoga
Flexibility and Strength are not Prerequisites
There's no prerequisite to begin a yoga practice